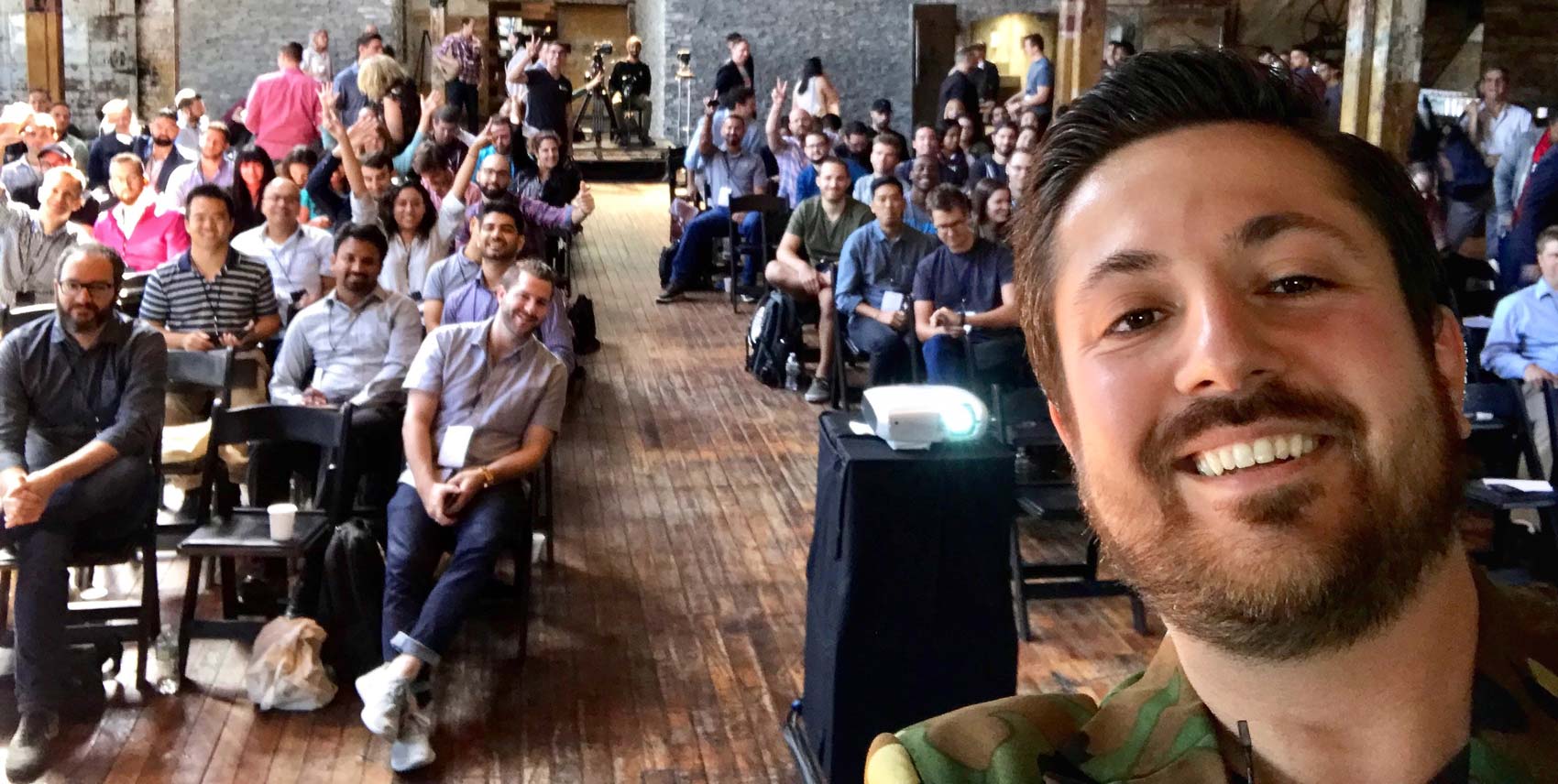 Stage selfie from A Day With Shopify.
I Want To Guest On Your Podcast
As a podcast host, I know how hard it is to produce a great podcast. I've recorded over 250 podcast episodes both as a guest and a host of the successful Unofficial Shopify Podcast, and I can bring that experience to your show.
I make the perfect guest. I use professional gear, I show up on time, and I'm full of valuable anecdotes from my experience growing my own agency as well as growing clients' Shopify stores to six and seven-figure success.
If you'd like to book me, email your pitch to my wife at julie@ethercycle.com and she'll set up a date for us to record.
Press Info
The following information is provided as a cut-and-paste resource for conference organizers, media professionals, and other interested parties. Please feel free to use it as is. If you have additional questions, you can email me.
Bio
One of the most highly regarded independent consultants in his industry, Kurt Elster is a Senior Ecommerce Consultant who helps Shopify merchants like Jay Leno's Garage uncover hidden profits in their websites through his ecommerce agency Ethercycle. With one million downloads, Kurt is best known for hosting The Unofficial Shopify Podcast. You can learn more and subscribe to Kurt's free newsletter at https://kurtelster.com/
Sample Questions to Ask Kurt
Ready to get some actionable advice for your audience on conversion rate optimization? Ask me any of these sample questions.
If you were launching today, how would you prioritize your marketing efforts/budget?
I'd love to learn more about the apps side of your business. How do you come up with problems to solve? What's unique about your offering? Why should merchants buy them?
If you could professionally pursue anything other than Ecommerce or "marketing," what would it be?
Thoughts on PageSpeed?
What are some things that separate an enduring ecommerce business from a flash in the pan or hobby business?
What are specific design mistakes you see merchants making?
What ecommerce companies do you pay attention to that "Get it right" in terms of CRO?
What is one active project or campaign that has you really excited?
What is something you don't get the opportunity to talk about much, but you think is important for Ecommerce brands to be mindful of?
What advice do you find yourself repeating to early stage Ecommerce entrepreneurs chasing that first million? (Ads, Email, SMS, CRO?)
What specific messaging mistakes do you see merchants making?
Where should a merchant start when making CRO improvements - the cart, product detail pages, category pages?
Why is my pagespeed so bad and can you fix it for me? (kidding)
You are pretty well-known for doing store teardowns and for your podcast. What have these things done for your business and do you think they are areas of opportunities for merchants?
Facts About Kurt
Ask me about these little known facts so that you sound like you're as good an interviewer as Larry King or Howard Stern.
I believe your biggest competitor is the back button.
I know you should design your site for a crazy, lazy drunk.
I've twice created viral sites that received over 1 million hits in their first week.
I think hourly billing is nuts.
I believe positioning is the cornerstone of any business's success
In my first bootstrapped startup, I tried to build an ecommerce platform. It didn't work out.
I didn't experience real success until I discovered the Productized Consulting business model
My first business was selling t-shirts on eBay in college.
I exclusively work with Shopify as a platform.
I used to work with creative agencies and developed sites for Verizon, the NFL, Hilton Hotels, and others.
I believe if you're in an online business of any kind, you are in business of the list building.
Headshots